Dr. Suzanne's Health & Wellness Pack
Dr. Suzanne is proud to offer the best products and services to enhance your daily life. This is why we have partnered with Benefiq to deliver the Health and Wellness Package, your complete solution for managing your busy life. This unique offering combines three categories of the most essential services available exclusively for Dr. Suzanne's members.
It starts with our Core Health Services component, featuring: Alternative Medicine, Chiropractic, Dental, Vision. It continues with Fitness Options services, giving you access to Fitness Advantage and Personal Wellness Online. Finally, our Special Needs program provides Nurse Hotline, Recreation, and VIP Health & Wellness.
All of this for just $19.99/month. Compare it to paying for just one doctor visit alone! Not to mention the loss of productivity, gas prices, travel time, etc. We think you will agree with us that this plan finally gives you an peace of mind for just a few dollars per day every month!
Don't hesitate. Join now. There are no startup or cancellation fees. Give us a try and you will quickly ask yourself how you managed without this. For additional information on the individual services within your Health and Wellness Package, click on the tabs on the left. And remember, this is a limited time offer, so act now. Don't let the advantage pass you by.
Dr. Suzanne's Core Health Services
Our Health and Wellness Package starts off with Alternative Medicine provided by American Healthways. Patients and providers are increasingly using alternative methods of care that do not rely on invasive procedures or long term use of pharmaceuticals, and the Alternative Medicine Network is one of the nation's leading providers of integrative medicine, containing a national network of over 16,000 practitioners providing care to millions of members all across the country.
Enjoy 10% to 30% savings on all treatments and services including Acupuncture, Nutritional Counseling, Massage Therapy, and Holistic Medicine as well as popular Exercise and Movement specialties including Yoga, Tai Chi, Pilates and more.
Members also save 30% to 50% at over 3,000 participating Doctors of Chiropractic nationwide. Some of the services include: Free initial consultation, 50% savings on diagnostic services, 50% savings on x-rays performed on-site, 30% savings on treatment and other services, Unlimited access to care with no limits on the number of visits and much more.
For Dentistry, members save 15% to 50%* on everything from general dentistry and cleanings to root canals, crowns and orthodontia at over 71,000** dental practice locations!
Coast to Coast (CTC) Vision has contracted with us for over 12,000 eyecare locations nationwide. Members save on eyeglasses, contacts, eye exams and surgical procedures. Enjoy great benefits at independent optical centers and national chain locations such as Pearle Vision, JCPenney Optical, Sears Optical, Target Optical, LensCrafters, and EyeMasters.
This includes savings of 20% to 60% on prescription eyewear, 10% to 20% on contact lenses (excluding disposables), 10% to 30% on eye exams, and 40% to 50% savings off the overall national average on LASIK surgery.
So what are you waiting for? Savings like this can't be found anywhere else!
Dr. Suzanne's Fitness Options
The Fitness Advantage offers an opportunity to get a head start on a healthier lifestyle through access to International Fitness Club Network (IFCN), a network of high quality health and fitness clubs at affordable rates.
Members are assured the club's lowest membership rate for the type of membership selected and receive a one-week introductory trial membership certificate, free of charge. This allows members to try several participating clubs for one week each, giving the opportunity to truly experience the club and its facilities. (Not to be combined at the same club.)
Highlights include:
Available in all 50 states with over 7,000 participating health clubs worldwide. Some of the largest club chains in the country are members of the IFCN, including Bally Total Fitness, Jazzercise, LA Fitness and Lifetime Fitness.
Members may access the member service website or call the toll-free number 24 hours a day, 7 days a week to speak with a trained member service representative concerning various club locations and facility information.
IFCN also offers discounts on fitness equipment from 2nd Wind Fitness and Bigfitness.
Health and Fitness Clubs are required to meet the American College of Sports Medicine's health and safety standards.
Personal Wellness Online (My eWellness)
Wellness is about promoting personal health and fitness through the natural therapies of a healthy diet, nutritional supplements, the benefits of exercise, as well as having a healthy attitude. MyEWellness.com is a comprehensive resource that aims to help members achieve personal health and wellness goals regardless of age, gender or level of fitness. The website provides members the tools to make wellness part of their daily life.
Dr. Suzanne's Special Health Needs Features
Nurse Hotline (FoneMed)
Good health starts with asking questions and knowing where to go for the answers. Nurse Hotline offers toll-free access to experienced registered nurses, 24 hours a day, 365 days per year. Our hotline nurses are an immediate, reliable and caring source of health information, education and support. Our nurses provide information based on physician-approved guidelines, including:
Better-informed, healthier individuals are key to reducing healthcare costs. Nurse Hotline gives you necessary information to help with healthcare. In addition to preventing unnecessary emergency room visits, you receive quick, sound medical information from trained RNs.
Recreation
Members will save up to 50% at a wide variety of activities, including family amusement parks, bowling facilities, laser tag, white-water rafting, museums, arcades, sporting and cultural events, high adventure trips, and much more. With discounts valid throughout the year at destinations worldwide, the opportunities to save with the Recreation Program are limitless.
VIP Health & Wellness (Diabetic Solutions, Vitacost)
Through the VIP Health & Wellness program, members save dramatically over the retail price of their diabetic supplies. Plans include a premier Glucose Meter, control solution, test strips, lancets and lancing device. Supplies are shipped regularly at no additional cost.
Many different plans to choose from based on testing requirements. Plans are designed for everyday testing. Save an additional 15% off on any single order items including test strips, lancets, lancing device, and more. Toll-free ordering, regular shipments and convenient home delivery on all diabetic supplies. Free shipping on supplies when plan option is selected.
Real-life results! ...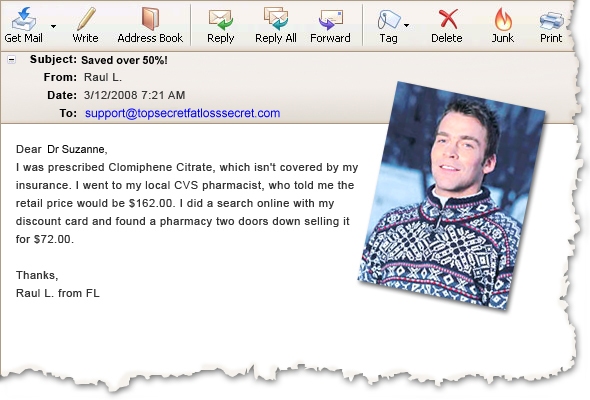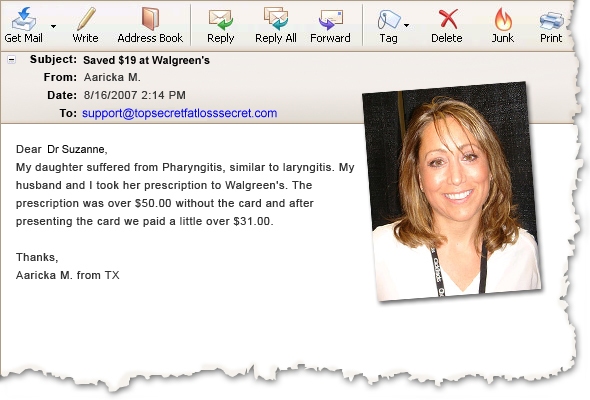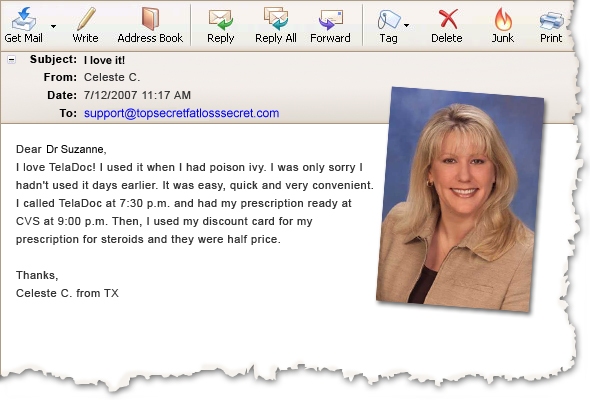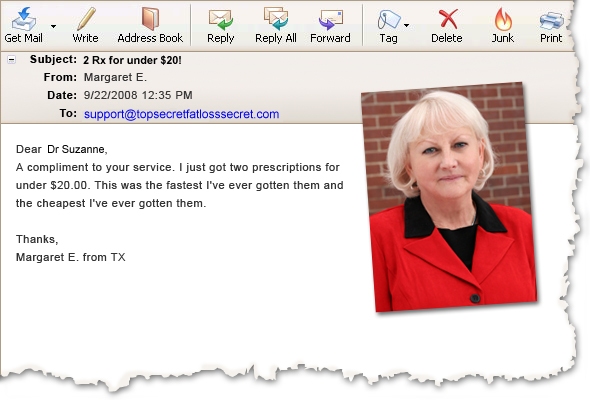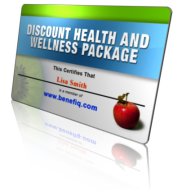 Start experiencing the amazing benefits of this program just like each and every one of these satisfied members above have all done.
Join them! Do not let them be the only ones to be SAVING hundreds of dollars on their health and wellness needs!
So do not hesitate any longer!
Yes, please count me in! I would definitely like for you to help me save hundreds of dollars on my health and wellness needs.

Additionally, I understand that I may cancel within 30 days if not delighted. On that basis I hereby place my order!
* You will be charged $19.99 per month.
Yours in Health,

Dr. Suzanne Gudakunst
Creator of Top Secret Fat Loss Secret
PS...Important Point to Remember: Thirty days from now, you could be just one month older and have lost hundreds of dollars. Or, you could be 30 days closer to SAVING hundreds of dollars on you and your family's health needs! You decide which you'd rather be just 1 month from now...